Don't be afraid to try.
Oct 24th, 2010 | By
Paul
| Category:
aptitude
,
Career advice
,
career challenges
,
career choice
,
challenges
,
choosing a career
,
competing
,
confidence
,
persuasion
,
self confidence
,
skills
,
strategy
,
tactics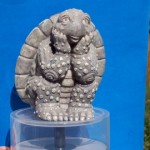 This week my heat pump broke.  There is a light that indicates the probable cause of the malfunction. After some searching I found the flashing code on the thermostat pointed to a circuit board in the outside unit.  When I took a look, the board in question appeared easy enough to change. A few plugs and some color-coded wires.  How hard could it be?
To give a little background, the heat pump is 17 years old, and the expected lifespan is 15-20 years.  This is the second time in a couple of months it broke down.   I was able to fix it the first time by changing an electrical part.  It seemed like a similar task this time.  So armed with the confidence of recent success, and the knowledge that the unit was reaching its end of life cycle, I decided to give fixing it a try.
The first indication that things were not going to be easy   was the direct replacement part was no longer available.  This added to my conviction that the unit was not worth putting out a lot of money to repair.   In addition, my research took me to several websites that are supposed to help diagnose heat pump problems.  Most of the entries suggested replacing the heat pump with a new one, based on the premise that the unit was so near the end of it useful lifecycle that I would save money in the long run by just replacing it.   After some searching I found a suggested replacement circuit board.  There was not a lot of advice on changing the old board with the new one, but I figured again how hard could it be.
Heat pumps are not complicated systems in the block diagram.  There is a fan, compressor, a few valves and sensors, plus about a half dozen or so thermostat wires.  So I figured with help of the step-by- step instructions that were supposed to be included I could manage it.   So I ordered the part.
When the part arrived I was somewhat surprised in that it looked nothing like the old board.  Instead of a few plugs and some wires, it was totally different.  In addition, the step-by-step instructions did not match up to my unit, and the color-coded wires were different colors.  There was a note in the instructions that said if the instructions do not match, there is a diagram of the how the new part should be wired.   It was a generic diagram with little resemblance to my system. Still undaunted I decided to give it a try.  Figuring I could always call a repairman or replace the unit before the income tax rebate lapses at the end of this year.
Before I tell you how things turned out, I would like to explain what all this has to do with mentoring and careers.   I once had a neighbor, who was an appliance repairman, who often advised me to try to fix things myself.  His reasoning was that if you failed to fix it, you could always call a repairman. Thanks to Al and his advice and mentoring, I have been able to fix the majority of things that go wrong with the cars or the house.  The more I tried to fix, the more I learned, and my confidence increased.  So although I did not succeed every time, I always came away knowing more, than when I started.  My confidence and pride would sometimes be bruised, but soon healed.
It is not my goal to be a handy man or mister-fix -it, but I do like to be independent and self-reliant.  When you develop your confidence to try new things, you increase your willingness to accept new challenges and projects.   In the workplace this often leads to more interesting assignments, and increases your promotion potential.  Don't misunderstand me; I am not advising you to do your own home repairs.  What I am advising you to do is to not be afraid to stretch a little beyond your comfort zone, and apply your self to new challenges, for they will often turn into opportunities.
So how is the old heat pump doing?  I will most likely be calling the repairman tomorrow
As I finished reviewing my blog before posting, I got a nagging feeling to follow my own advice. The next morning, I asked my wife to get the name of the repairman from her exercise friends while she was at the gym. While my wife was gone, I tried one more time to search the Internet for a clue as to what the problem could be.I had checked the schematic and directions several times and everything seemed ok. For no real reason, other than I tried every search term I could find or think of, I decided to try some of the numbers on the replacement part package. I had already tried the model number and manufacturers ID. I am not really sure what these numbers were for, but I plugged them into google. At first the returns were the same ones I had seen over and over again. Then a new return popped up. It was a very simple one sheet PDF, but it contained the key to my problem. There was a note at the bottom of the page that stated that the unit will not function with the factory settings, and must be set for each installation. There was also a picture and a chart for different sized units. It was easy to find the size and other parameters that I needed to adjust the settings for my unit. Once I did, the unit came to life when I switched it on. I checked both heating and cooling and it seems to be working fine. The weather here has been mild, and we haven't needed heat or cooling, so it still remains to be seen if the heat pump will stand up to another winter. However, the fact that it is running again is amazing to me. Although I am extremely gratified that the heat pump is working again, I don't feel I can take credit for fixing it. Some may call it a stroke of luck, others a coincidence, but I consider it a gift for which I am truly thankful. Persistence and perseverance coupled with the courage to try can work miracles.
The PracticaL Mentor.
The PracticaL  Mentor.
3,228 total views, 1 views today